*UPDATE: this bakery has since closed its doors. We wish Jerome all the best!
Whenever I walked past Pronoia Foods, a small bakery in Pasir Panjang situated at Viva Vista, I would take a peek through the glass door just to see what the baker in white was doing in his kitchen. You see, I love to bake albeit being just an amateur.
Today, I stepped in and had a good chat with the baker himself, Jerome Lim. Jerome's previous job had him traveling extensively and he decided on a career switch that would allow him more quality time with his young family.
Pronoia Foods was started as he wanted to bake delicious, authentic bread unlike the airy bread made from baking soda that is commonly found in the market. Sourdough, wholemeal & white bread are the so called "real breads" that can fill your tummy after eating, said Jerome.
Other than bread, the shop also carries healthier versions of Almond cakes, Chocolate Banana cakes, Sugee cakes (original & lemon variety) and Black Forest cakes. His signature cake is the Carrot cake, in which he takes pride in being able to retain much of the original taste without using too much sugar & frosting.
In fact, it is filled with cinnamon and rum, tastes that are reminiscent of the Christmas season! You can call to make an order 3-5 days in advance via Whatsapp at 88091245.
An advantage of living in Pasir Panjang is that he can deliver your cakes and breads to you free-of-charge! If you stay beyond 3km, he can still make deliveries to you after 8pm.
What makes me happiest is that he was generous enough to share the starter of his sourdough with me! How's that for our very own friendly neighbourhood baker?
Pronoia Foods
3 South Buona Vista Road
#01-01 Viva Vista Mall
Singapore 118136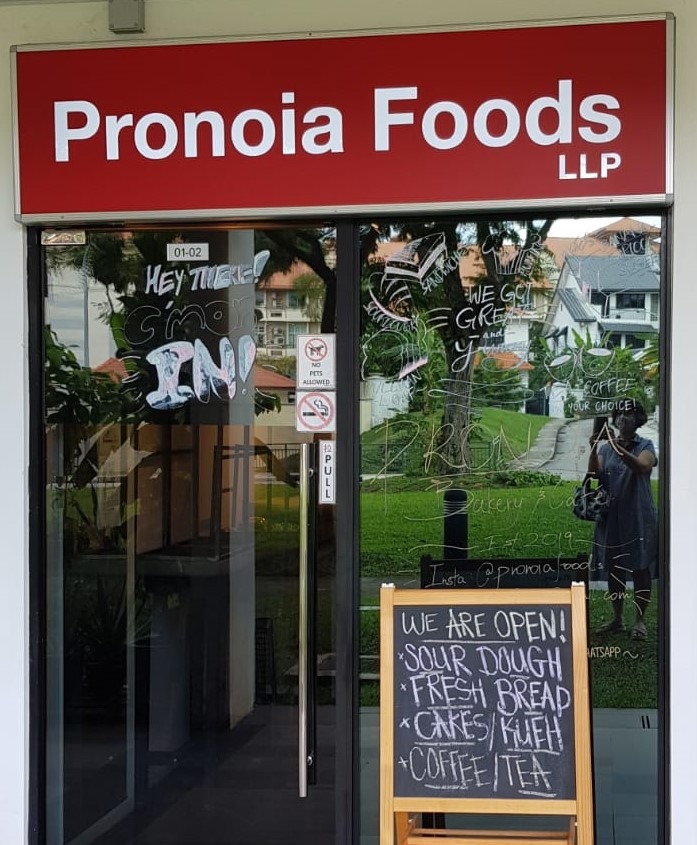 Besides Pronoia Foods, check out this popular little Taiwanese eatery along Pasir Panjang Road known as Eat 3 Bowls.